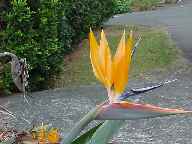 The Bird of Paradise
808hi.com
This is the first URL I got in 1998 - which originally became famous as home of the '56k=v.Unreliable' Modem site at 808hi.com/56k. 56k modems have become much more reliable, and my modem site is now Modemsite.com.
808 is the area code for the State of Hawaii (one of a handful of states that have only 1 area code). HI is the abbreviation for Hawaii. I may sell the 808hi.com and 808news.com domains soon - contact me if you have an interest. Aloha! Richard Gamberg.
Hawaii weather is perfect year 'round